Supermark Guards Services Limited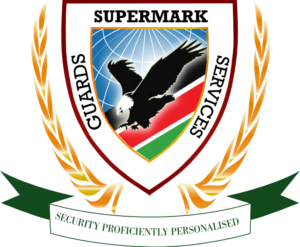 SUPERMARK GUARDS SERVICES LIMITED
SUPERMARK GUARDS SERVICES LIMITED is a registered security company in Kenya and was incorporated in 2019 under the companies Act (Cap 486) laws of Kenya with its Head Office in Nairobi and branches spread country wide servicing Prospective and existing firm clientele.
Over the past two years in existence, Supermark has created a niche countrywide in the security industry as one of the reliable security solutions and service provider.
The company offers the following services, Manned guarding Services, Dog Patrols, Road Rescue, Event Security, VIP Protection, Private Investigations, Security Audits, Intruder Alarm Systems and Backup, Satellite Tracking Systems, Access Control Systems, CCTV Installation, Fire Suppression equipment and Labour Manpower.
The Company keenly vets staff by ensuring that they recruit personnel with exceptional good track record backed by documentation obtained from relevant government agencies prior to engagement. Additionally, the guards undergo rigorous security training conducted by experienced personnel to ensure delivery of quality service to our clients.
An impromptu check by our supervisory department on the guards is a key factor in our company as it promotes alertness and continuous disciplinary approach.
In the unfortunate event of loss or damage in the precincts of client's property under gross negligence on the part of the company, we have provided for a compensation plan for contractual liability, Public liability, Work injury benefit, Burglary liability, and fire material damage insurance.
Furthermore, we always undertake to settle minor incidents compensation involving small amounts immediately. However, we do not hesitate to advise our clients to acquire their own insurance to protect the property against potential losses.
The company has incorporated the latest technology in the security industry with customized solutions to address specific needs of each client, hence offers integrated security services for the installation of intruder alarm systems, electric and razor wire fence, both digital and analogue CCTV, security bollards, barriers and all other security related electronic systems.
Our core principles and values are driven by the philosophy that the client is always at the center of focus.
Our team is well trained and motivated to observe high standards of ethics and professionalism while promoting Entrepreneurship, integrity, stewardship and teamwork.
Our Key clientele commitment is to ensure proficiently personalized services, responding to clients' needs on time all the time, quality delivery and value for the money.
We are flexible on our charges based on the client needs, requirements and risk analysis.